Closed Cooling Tower
Closed Cooling Tower
Bingshan

China

60-90days

3000 set/year
Work Principle
Closed type cooling tower is the equipment that makes work fluid(water or other liquid ) flow in closed pipes and isolated form air, heat through pipe wall exchanged to outside air,and finally makes the work fluid cooled down. Principle of the spray water cycle, commonly called extrinsic cycle, the same as opened type cooling tower: Spray water sucked from collecting tank by spray pump, flows into distribution basin, passes through perforated plate and flows into the heat-exchange fillings after evenly distribution, due to the working of fan, the speed-up evaporating part of water and taken away heat, spray water is cooled and heat transferred to the work fluid in the cooling coil pipes, after that cooling is completed. Finally spray water flows into the collecting tank, then to the distribution basin, and cycles continuously, so that work fluid is cooled continuously too.
Closed Cooling Tower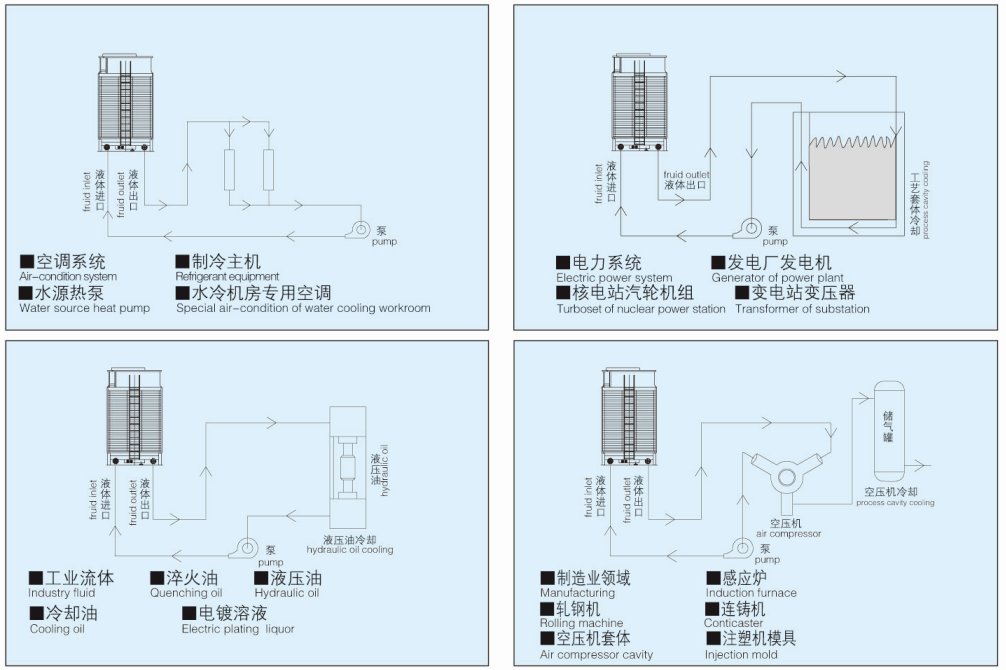 Advantage
Super excellent cooling performance
Unique alternate assembly of single layer copper pipes and fillings, coil pipes and fillings contact tightly, wind flows through them at identical speed and spray water drops slowly and equably, that leads to adequate evaporation, so every assembly has the same temperature difference and the cooling efficiency improves highly. While alternate assembly of multi-layer copper pipes and fillings, there is space between the coil pipes, part of wind flows through them and spray water drops fast and uneven, that leads to disaccord of the temperature difference of every assembly, the cooling efficiency falls down.
Additional custom-design high-efficiency fillings, using tridimensional heat-exchange construction, unique design of the diversion flume according to the distributed type of coil pipes, which ensures water spray at the surface of copper pipes and makes water in coil pipes cooled efficiency adequately.
.
Reliable and convenient connection of coil pipes
Using particular design of the coil pipes, put the inlet, outlet collector of the cooling water into the tower body, no collector on the outside of tower body.it's easy to disassemble and replace.The coil pipes Flange connection, reliable and safe, disassemble convenien disassembly; flanges connected with coil pipes made of FRP, high-strength, protect coil pipes and avoid galvano-chemistry corrosion. That connection of screw and split-clamp may cause coil pipes damage, and danger of leakage.
Specially pressed forming FRP supports of the coil pipes, high-strength, no-deformation; and exact fixing position, ensure installation angle of the coil pipes, make water supply and drain smoothly, no abrasion and corrosion to the coil pipes.
Unique disposal of parts
Coil pipes made of high-efficiency and superb-corrosion resistance phophorus-deoxidized seamless copper pipes, lean disposal make fluid easy to drain out; Inner type of spray pipes saving outside space, not only make the tower outside look nice, but also easy to overhaul and maintain.

Specification
Model

WATER FLOW

DIMENSIONS(mm)

FAN ASSEMBLY

SPRAY WATER

PIPE DIMENSIONS x NUMBER

COIL PIPE

DEAD WEIGHT

RUNNING WEIGHT

m3/h

W

L

H

DIMENSION x MOTOR SET

Mm x SET kW x SET

PUMP kW x SET

HOT WATER COLD WATER INLET PIPE OUTIHPIPE

MAKEUP WATER PIPE

OVERFLOW

PIPE

DRAIN PIPE

PRESS DROP kPa

kg

kg

CCT-D30CUF

30

2050

2400

2472

1300x1 1.5x1

0.75 x 1

65x1 65x1

25x1

40x1

40x1

102

790

1,420

CCT-D40CUF

40

2050

2400

2892

1300x1 2.2x1

0.75x1

80x1 80x1

25x1

40x1

40x1

97

910

1,630

CCT-D50CUF

50

2050

2400

3312

1300x1 4.0x1

0.75x1

80x1 80x1

25x1

40x1

40x1

93

1,000

1,790

CCT-D60CUF

60

2050

3550

2472

1500x1 4.0x1

1.5x1

100x1 100x1

25x1

40x1

40x1

102

1,220

2,280

CCT-D70CUF

70

2050

3550

2682

1600x1 5.5x1

1.5x1

100x1 100x1

25x1

40x1

40x1

99

1,340

2,480

CCT-D80CUF

80

2050

3550

2892

1700x1 5.5x1

1.5x1

125x1 125x1

25x1

40x1

40x1

97

1,450

2,690

CCT-D90CUF

90

2050

3550

3172

1700x1 5.5x1

1.5x1

125x1 125x1

25x1

40x1

40x1

88

1,550

2,910

CCT-D100CUF

100

2050

3550

3312

1700x1 7.5x1

1.5x1

125x1 125x1

25x1

40x1

40x1

93

1,600

3,010

CCT-D110CUF

110

2400

3850

3452

1850x1 7.5x1

1.5x1

125x1 125x1

25x1

40x1

40x1

100

1,880

3,560

CCT-D125CUF

125

2400

3850

3732

2000x1 7.5x1

1.5x1

125x1 125x1

25x1

40x1

40x1

101

2,040

3,850

CCT-D135CUF

135

2400

3850

4232

2000x1 11 x1

1.5x1

125x1 125x1

25x1

40x1

40x1

99

2,140

4,040

CCT-D150CUF

150

2400

3850

4432

2200x1 11 x1

1.5x1

150x1 150x1

25x1

40x1

40x1

100

2,310

4,340

CCT-D160CUF

160

2400

3850

4642

2200x1 11 x1

1.5x1

150x1 150x1

25x1

40x1

40x1

99

2,410

4,540

CCT-D180CUF

180

4100

3550

3172

1700x2 5.5x2

1.5x2

125x2 125x2

25x2

40x2

40x2

88

3,020

5,730

CCT-D200CUF

200

4100

3550

3312

1700x2 7.5x2

1.5x2

125x2 125x2

25x2

40x2

40x2

93

3,110

5,930

CCT-D220CUF

220

4800

3850

3452

1850x2 7.5x2

1.5x2

125x2 125x2

25x2

40x2

40x2

100

3,610

6,980

CCT-D250CUF

250

4800

3850

3732

2000x2 7.5x2

1.5x2

125x2 125x2

25x2

40x2

40x2

101

3,960

7,580

CCT-D270CUF

270

4800

3850

4232

2000x2 11 x2

1.5x2

125x2 125x2

25x2

40x2

40x2

99

4,150

7,960

CCT-D300CUF

300

4800

3850

4432

2200x2 11 x2

1.5x2

150x2 150x2

25x2

40x2

40x2

100

4,480

8,550

CCT-D320CUF

320

4800

3850

4642

2200x2 11 x2

1.5x2

150x2 150x2

25x2

40x2

40x2

99

4,680

8,940

CCT-D375CUF

375

7200

3850

3732

2000x3 7.5x3

1.5x3

125x3 125x3

25x3

40x3

40x3

101

5,890

11,320

CCT-D405CUF

405

7200

3850

4232

2000x3 11 x3

1.5x3

125x3 125x3

25x3

40x3

40x3

99

6,170

11,880

CCT-D450CUF

450

7200

3850

4432

2200x3 11 x3

1.5x3

150x3 150x3

25x3

40x3

40x3

100

6,660

12,760

CCT-D480CUF

480

7200

3850

4642

2200x3 11 x3

1.5x3

150x3 150x3

25x3

40x3

40x3

99

6,950

13,340

CCT-D500CUF

500

9600

3850

3732

2000x4 7.5x4

1.5x4

125x4 125x4

25x4

40x4

40x4

101

7,810

15,060

CCT-D540CUF

540

9600

3850

4232

2000x4 11 x4

1.5x4

125x4 125x4

25x4

40x4

40x4

99

8,190

15,800

CCT-D600CUF

600

9600

3850

4432

2200x4 11 x4

1.5x4

150x4 150x4

25x4

40x4

40x4

100

8,840

16,970

CCT-D640CUF

640

9600

3850

4642

2200x4 11 x4

1.5x4

150x4 150x4

25x4

40x4

40x4

99

9,220

17,740

CCT-D675CUF

675

12000

3850

4232

2000x5 11 x5

1.5x5

125x5 125x5

25x5

40x5

40x5

99

10,200

19,720

CCT-D750CUF

750

12000

3850

4432

2200x5 11 x5

1.5x5

150x5 150x5

25x5

40x5

40x5

100

11,010

21,180

CCT-D800CUF

800

12000

3850

4642

2200x5 11 x5

1.5x5

150x5 150x5

25x5

40x5

40x5

99

11,490

22,140

CCT-D900CUF

900

14400

3850

4432

2200x6 11 x6

1.5x6

150x6 150x6

25x6

40x6

40x6

100

13,190

25,390

CCT-D960CUF

960

14400

3850

4642

2200x6 11 x6

1.5x6

150x6 150x6

25x6

40x6

40x6

99

13,830

26,600