Outdoor Hermetic Unit
Outdoor Hermetic Unit
Bingshan

China

60-90days

3000 set/year
Outdoor Rolling Rotor Fully-Hermetic Unit (2~3HP) 3.76~5.34KW
Outdoor Scroll Hermetic Compressor Unit (4~6HP) 7.75~12.81KW
Application
Outdoor type unit, widely applied in showcase, small convenient store, small cold storage and hotel cold storage.
Outdoor Hermetic Unit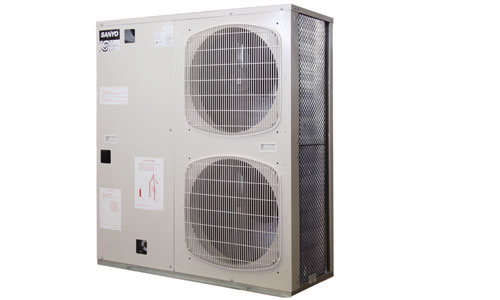 Features
Optimized Appearance Design
Hermetic compact structure, outdoor type.
A wide range of evaporative temp
Adopt R22 or R404a, evaporative temp scope: -40℃~10℃
Substantial Functional Unit and Protective Device
The unit is equipped with functional components and protective device required by refrigeration system.
Outdoor Type Hermetic Compressor Unit Technology Parameter Table
Type

Refrigerant

Nominal Condition

Low Temp Condition

Evap. Temp. Range

Cond. Temp. Range

Compressor

Noise

Outline

Net Weight

Mode

Displacement/Unit

Cooling Method

L

W

H

Ref. Cap.

Input Power

Ref. Cap.

Input Power






kw

Kw

Kw

kw

℃

℃




m3/h




dB(A)

mm

mm

mm

kg

OCU-R300SFJ

R22

5.20

2.40

2.27

1.55

-5~-40

-7~43

Rolling Rotor

8.06

Liquid Injection Cooling

58

982

405

880

87.5

OCU-NR200SFJ

R404A

3.76

1.45

1.36

1.55

-5~-40

-7~43

Rolling Rotor

5.6

Liquid Injection Cooling

50

982

405

880

87.5

OCU-RR300SFJ

R404A

5.34

2.26

2.26

1.55

-5~-40

-7~43

Rolling Rotor

8.08

Liquid Injection Cooling

51

982

405

880

87.5

OCU-S400HFJ

R22

7.75

3.16

-

-

-15~-10

-7~43

Scroll Type

11.8

Natural Cooling

58

940

380

1235

110

OCU-S500HFJ

R22

9.27

3.53

-

-

-15~-10

-7~43

Scroll Type

14.76

Natural Cooling

58

940

380

1235

111

OCU-S600HFJ

R22

10.6

3.9

-

-

-15~-10

-7~43

Scroll Type

17.7

Natural Cooling

58

940

380

1235

112

OCU-NS400HFJ

R404A

9.06

3.6

-

-

-15~-10

-7~43

Scroll Type

11.8

Natural Cooling

54

940

380

1235

110

OCU-NS500HFJ

R404A

10.54

4.32

-

-

-15~-10

-7~43

Scroll Type

14.76

Natural Cooling

54

940

380

1235

111

OCU-NS600HFJ

R404A

13.43

5.76

-

-

-15~-10

-7~43

Scroll Type

17.7

Natural Cooling

57

940

380

1235

112

OCU-S400QSFJ

R22

8.16

3.27

4.39

2.91

-5~-40

-15~43

Scroll Type

11.82

Liquid Injection Cooling

57

940

380

1235

110

OCU-S500QSFJ

R22

10.12

3.98

4.85

3.5

-5~-40

-15~43

Scroll Type

14.73

Liquid Injection Cooling

57

940

380

1235

110

OCU-S600QSFJ

R404A

12.81

2.404.83

5.84

4.01

-5~-40

-15~43

Scroll Type

17.03

Liquid Injection Cooling

57

940

380

1235

110

OCU-NS800VFSJ

R404A

11.24

6.99

8.46

6.56

-5~-40

-15~43

Scroll Type

37.2

Liquid Injection Cooling

50.5

1350

613

1260

252