Red Water Rechiller
Red Water Rechiller
Bingshan

China

60-90days

3000 set/year
Products Introduction
It is mainly used for red water circulation cooling of carcasses produced by poultry slaughtering line (2000-13500birds/h). By adopting ejecting liquid supply technology, structure design of falling film shell and tube heat exchanger, careful selection of control elements and rigorous setting of control program, the device can provide stable and reliable ice water at about 0.3~1℃.In guarantee the chicken water reasonable, pre-cooling time fully, poultry ketone body can be cooled to below 4 ℃; At the same time, the low water temperature effectively inhibited the microbial reproduction.The quality of chilled products is good, the quick freezing heat load is greatly reduced;
Red Water Rechiller
Products Introduction
It is mainly used for red water circulation cooling of carcasses produced by poultry slaughtering line (2000-13500birds/h). By adopting ejecting liquid supply technology, structure design of falling film shell and tube heat exchanger, careful selection of control elements and rigorous setting of control program, the device can provide stable and reliable ice water at about 0.3~1℃.In guarantee the chicken water reasonable, pre-cooling time fully, poultry ketone body can be cooled to below 4 ℃; At the same time, the low water temperature effectively inhibited the microbial reproduction.The quality of chilled products is good, the quick freezing heat load is greatly reduced;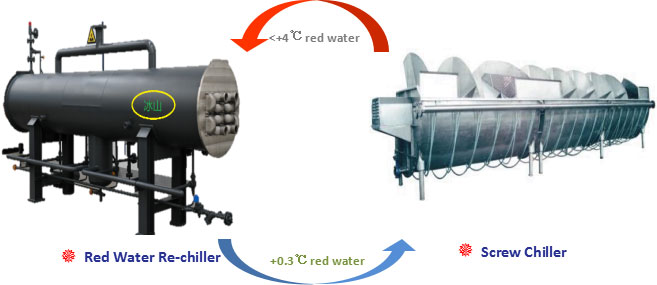 Red Water Chiller Technical Processing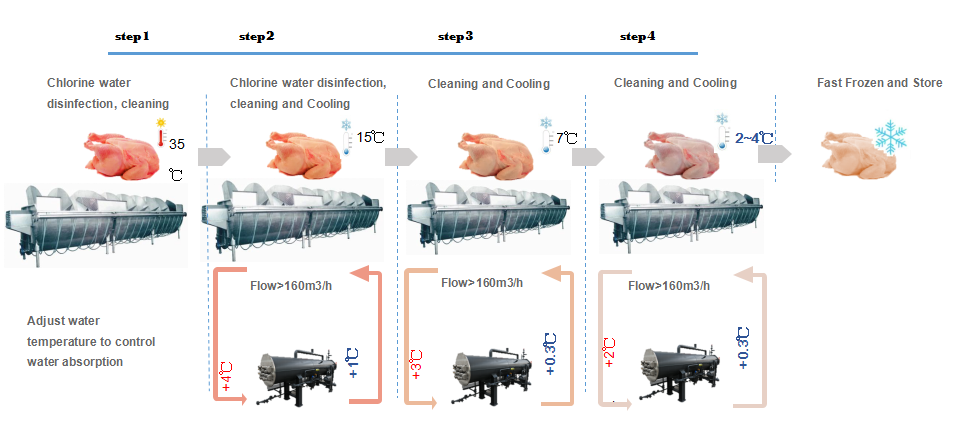 Advantage
1. Energy saving -- the temperature before quick-freezing is cooled from 20-10℃ to 4℃, and the heat load of this part is turn to -7℃ directly. -25 ~ -30 ℃ flake ice system is upgraded to -7℃, with a total energy saving of over 51%
2. Water saving - pre-cooling water is cooling and circulated. Innovates the pre-cooling water cooled through the flake ice and decrease water consumption.
3. Hygiene - food machinery design, CIP automatic cleaning, multiple cleaning technology
4. Fresh-keeping -- together with the screw pre-cooling machine, the poultry meat center temperature can be quickly cooled to +4℃ to meet the requirement
Improve quality, poultry chilled products shelf life is extended by one time.
5. Labor-saving - high cooling efficiency, simple operation, shorten the working time of all staff
Specification
| | | | | |
| --- | --- | --- | --- | --- |
| Standard Products | Ref. Cap. (kw) | Water Flow (t/h) | L x W x H (m) | Net Weight (KG) |
| HSMA300-Ⅱ | 300 | 160 | 5.1*1.6*2.1 | 3400 |
| HSMA450-Ⅱ | 450 | 160 | 6.6*1.6*2.1 | 3900 |
| HSMA600-Ⅱ | 600 | 180 | 8.1*1.6*2.2 | 4500 |
| HSMA750-Ⅱ | 750 | 180 | 9.6*1.6*2.2 | 5200 |
| HSMA900-Ⅱ | 900 | 230 | 6.6*2.0*2.7 | 7000 |
| HSMA1200-Ⅱ | 1200 | 230 | 8.1*2.0*2.7 | 8400 |
Project Photo