Han Zheng, Vice Premier of the State Council and Standing Committee of the CPC Central Political Bureau, visited the Bingshan Group
14-07-2022
On the morning of June 6, 2022, Han Zheng, member of the Standing Committee of the Political Bureau of the CPC Central Committee and vice premier of the State Council, who conducted research in Liaoning Province, came to the Bingshan Free Trade Zone Industrial Park to investigate Bingshan Group.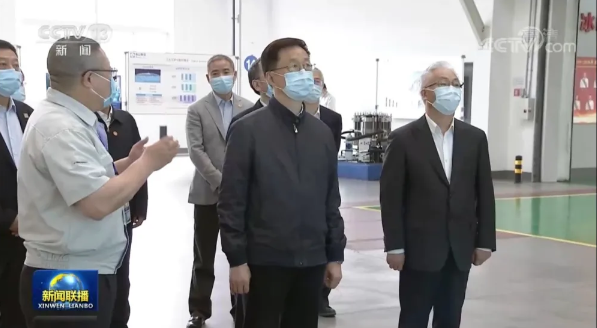 Jizhijian, chairman of Bingshan Group, reported on the work of Bingshan Group in continuously promoting the reform of mixed ownership, innovating and developing hot and cold businesses, transforming and upgrading time-honored brands, cultivating and expanding new brands, and striving to achieve high-quality development.
In the Bingshan technology exhibition room, chairman Ji Zhijian reported to Vice Premier Han Zheng the current development of Bingshan Group, the hot and cold business areas and the results of the three hybrid reforms, the ice and snow project of Bingshan and the service of intelligent retail equipment for the Beijing green winter Olympics, and introduced the mobile nucleic acid sampling cabin and virus disinfection and sterilization equipment and other biotechnology undertakings launched in response to the COVID-19, Demonstrated the industrial interconnection and intelligent control services that rely on 5G to complete the remote diagnosis of refrigeration system; At the Bingshan inspection and testing center, chairman Ji Zhijian introduced the hot and cold equipment under inspection and testing to Vice Premier Han Zheng, and reported the development of Bingshan's market segments such as focusing on hot and cold business, continuing to promote transformation and upgrading, and deepening and penetrating dual carbon.