Blood Bank Refrigerator
Blood Bank Refrigerator
Bingshan

China

60-90days

3000 set/year
4°C Blood bank refrigerator
For safe preservation of blood and blood-related products
About Alphavita
Dedicated in bio-science, Alphavita Bio-scientific (Dalian) Co., Ltd, (Alphavita) is a professional provider of comprehensive solutions for clinical application in cell therapy. Based in sample preservation, Alphavita is capable of exploring sample resources in-depth.

Alphavita is a new brand born with the development of Sanyo and Panasonic. Sanyo Electric Co., Ltd., as the top provider of lab equipment, was widely recognized in research and medical fields after its first launch in China in the 1970s. After Panasonic's acquisition of Sanyo Electric Co., Ltd. in 2012, the brand was changed from Sanyo to Panasonic. In 2018, Alphavita completed the integration with Panasonics Biomedical Business Division, becoming the sole enterprise to run Panasonics former biomedical business in China. While using the brand Panasonic legally and independently, we created a new brand — Alphavita in 2019, to officially start our business in life science.

While inheriting Sanyo's and Panasonics proven technologies, Alphavita devotes itself to 4 categories of products: sample preservation product, sterilization product, cell culture product and lab environment equipment; as well as 3 application scenarios: bio-bank, CPC and loT, aiming to improve enterprise competitiveness and user-friendliness on a digital and intelligent basis.

On the strength of Panasonics business operation in China for more than 50 years, Alphavita will inherit and continue Sanyo's and Panasonics concept and technology. With "To Protect Life with Bio・science" as our mission, Alphavita will keep challenging, making breakthroughs and contributions to the development of life science in China and the whole world.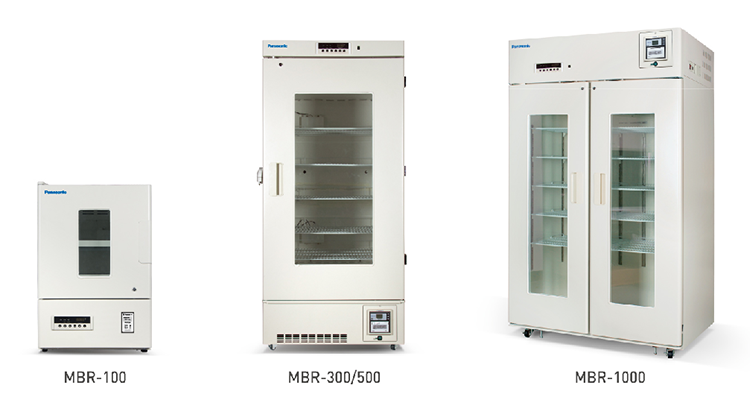 Controller with multi-protection

• In case of temperature control probe failure, the standard back-up probe will be automatically enabled to ensure the safety of stored blood
• In case of electronic controller failure, the accessory mechanical temperature controller will ensure the normal operation
User-friendly design
• Optional padlock ensures sample safety
• Painted-steeL-made outer and inner chamber, beautiful and durable, rust-proof and corrosion-proof
• Height-adjustable shelf divides the chamber into different sized storage spaces
• Built-in LED in the refrigerator, highlighting and energy-saving
• Foamed outer door with large window class facilitates sample observation
(MBR-100: electrical heating glass door effectively prevents door condensation)
• Defrosting tray is equipped outside to prevent water dripping in case of extremely humid environment
• Evaporating tray is equipped. After drainage, the condensing water will be automatically evaporated by compressor heat, which improves compressor work efficiency and eliminates manual pouring
Safe and stable

• Imported Hitachi compressor brings stable performance
• Unique duct design plus multiple resin inner doors remains the chamber in 4±1°C range (MBR-100/1000: 4±1.5°C)
• Evaporator probe plus smart cycle defrosting prevents temperature fluctuation from defrosting
• Temperature logger with print and data export functions, realizing the traceability of temperature record and ensuring the safety of blood usage
Product advantage
• Displayer division value: 0.1°C; temperature display for upper and lower chambers of MBR-300/500/1000 is switchable
• 2 temperature probes are placed in the tray to ensure precise displayed temperature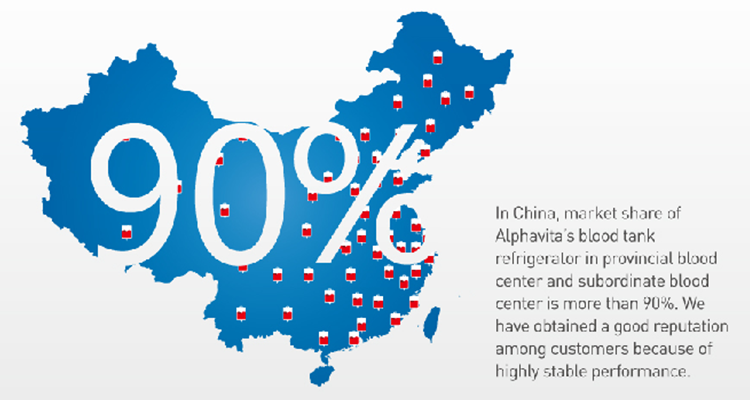 We are the only door to overseas market for Dalian Refrigeration Co., Ltd. We have our own design team, installation team and after-sales team. We are professional engineering & trading company. We have set up branch office in Philippines, Malaysia, Thailand, Burma, Cambodia, Singapore, Bangladesh, Pakistan, Russian, Uzbekistan, Brazil, Argentina etc.
...more