Medical Pharmaceutical Refrigerator With Freezer
Medical Pharmaceutical Refrigerator With Freezer
Bingshan

China

60-90days

3000 set/year
2°C~8°C/-20°C~-30°C Medical pharmaceutical refrigerator with freezer
2°C~8°C/-20°C~-40°C Medical pharmaceutical refrigerator with freezer
2°C~8°C/-20°C~-40°C Medical pharmaceutical refrigerator with freezer
Alphavita Medical Pharmaceutical Refrigerator With Freezer
About Alphavita

Dedicated in bio-science, Alphavita Bio-scientific (Dalian) Co., Ltd, (Alphavita) is a professional provider of comprehensive solutions for clinical application in cell therapy. Based in sample preservation, Alphavita is capable of exploring sample resources in-depth.

Alphavita is a new brand born with the development of Sanyo and Panasonic. Sanyo Electric Co., Ltd., as the top provider of lab equipment, was widely recognized in research and medical fields after its first launch in China in the 1970s. After Panasonic's acquisition of Sanyo Electric Co., Ltd. in 2012, the brand was changed from Sanyo to Panasonic. In 2018, Alphavita completed the integration with Panasonics Biomedical Business Division, becoming the sole enterprise to run Panasonics former biomedical business in China. While using the brand Panasonic legally and independently, we created a new brand — Alphavita in 2019, to officially start our business in life science.

While inheriting Sanyo's and Panasonics proven technologies, Alphavita devotes itself to 4 categories of products: sample preservation product, sterilization product, cell culture product and lab environment equipment; as well as 3 application scenarios: bio-bank, CPC and loT, aiming to improve enterprise competitiveness and user-friendliness on a digital and intelligent basis.

On the strength of Panasonics business operation in China for more than 50 years, Alphavita will inherit and continue Sanyo's and Panasonics concept and technology. With "To Protect Life with Bio・science" as our mission, Alphavita will keep challenging, making breakthroughs and contributions to the development of life science in China and the whole world.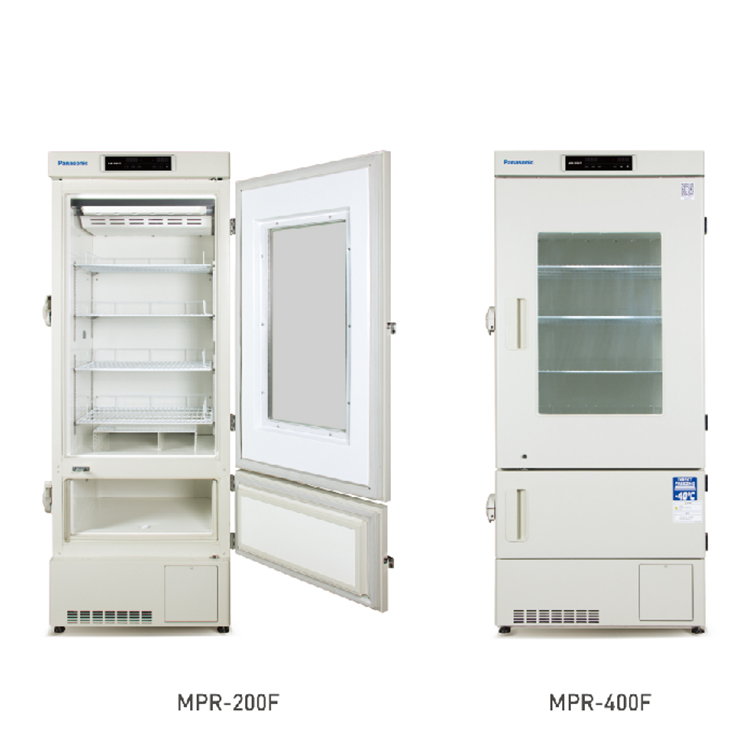 Drugs & reagents preservation environment in compliance with blood storage standards
Precise temperature control and rapid cooling
Precise control
• Microprocessor control, non-volatile operation, memory-maintained function and real-time display of compressor running status
• Smart cycle defrosting prevents temperature fluctuation from defrosting
• Unique duct design in refrigerator keeps temperature more stable, ensuring the storage standard (4±1.5°C) for blood
• Sample safety in case of long-term storage is ensured
Perfect alarm function
• Alarms such as high/low temperature alarm, door open alarm, power failure alarm, compressor protection alarm, sensor abnormality alarm, battery service life alarm, condenser fan life service alarm and remote alarm output can be connected with external remote alarms to guarantee storage safety
Product advantage
• Special space ratio (large refrigerator, small freezer) closes to actual demand, improves space efficiency
• Original import compressor brings stable performance
• Rapid pull-down in the freezer(MPR-400F:time for pull-down from AT 30°C to -40°C<90min)
User-friendly design
• Optional padlock ensures sample safety
• Painted-steel-made outer and inner chamber, beautiful and durable, rust-proof and corrosion-proof
• Height-adjustable shelf in the refrigerator divides the chamber into different sized storage spaces
• Built-in LED in the refrigerator, highlighting and energy-saving
• Foamed outer door with large window class facilitates sample observation
• USB data export function, up to 100,000 pieces of data can be stored
We are the only door to overseas market for Dalian Refrigeration Co., Ltd. We have our own design team, installation team and after-sales team. We are professional engineering & trading company. We have set up branch office in Philippines, Malaysia, Thailand, Burma, Cambodia, Singapore, Bangladesh, Pakistan, Russian, Uzbekistan, Brazil, Argentina etc.
...more