Ultra Low Temperature Freezer For Vaccine
Ultra Low Temperature Freezer For Vaccine
Bingshan

China

60-90days

3000 set/year
-50°C~-90°C Medical ULT freezer — VX series
-50°C~-86°C Medical ULT freezer — VH series/VH smart series
-50°C~-86°C Medical ULT freezer — V series
-90℃ Ultra Low Temperature Freezer For Vaccine
About Alphavita

Dedicated in bio-science, Alphavita Bio-scientific (Dalian) Co., Ltd, (Alphavita) is a professional provider of comprehensive solutions for clinical application in cell therapy. Based in sample preservation, Alphavita is capable of exploring sample resources in-depth.

Alphavita is a new brand born with the development of Sanyo and Panasonic. Sanyo Electric Co., Ltd., as the top provider of lab equipment, was widely recognized in research and medical fields after its first launch in China in the 1970s. After Panasonic's acquisition of Sanyo Electric Co., Ltd. in 2012, the brand was changed from Sanyo to Panasonic. In 2018, Alphavita completed the integration with Panasonics Biomedical Business Division, becoming the sole enterprise to run Panasonics former biomedical business in China. While using the brand Panasonic legally and independently, we created a new brand — Alphavita in 2019, to officially start our business in life science.

While inheriting Sanyo's and Panasonics proven technologies, Alphavita devotes itself to 4 categories of products: sample preservation product, sterilization product, cell culture product and lab environment equipment; as well as 3 application scenarios: bio-bank, CPC and loT, aiming to improve enterprise competitiveness and user-friendliness on a digital and intelligent basis.

On the strength of Panasonics business operation in China for more than 50 years, Alphavita will inherit and continue Sanyo's and Panasonics concept and technology. With "To Protect Life with Bio・science" as our mission, Alphavita will keep challenging, making breakthroughs and contributions to the development of life science in China and the whole world.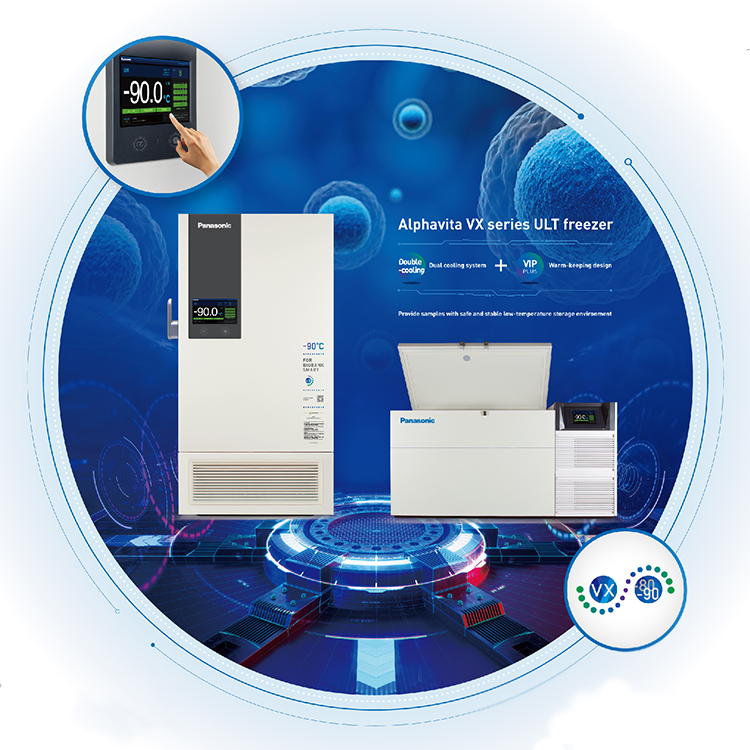 Double protection & safe preservation
-90°C dual cooling system
Double-cooling
• Original import compressor plus auto-cascade cooling system with mixed refrigerants provides stable -90°C temperature cycle and improves pull-down by 35%
• Significantly improved bioactivity and safety in case of long-term preservation
VIP plus
Optimized vacuum insulation material (U-Vacua) plus PU foamed warm-keeping wall provides unprecedented insulation performance, significantly improves warm-keeping performance by 20%. In case of AT 30°C, time for pull-up to 60°C>160min
User-friendly design
• Ergonomic latch plus optional padlock provides more user-friendliness. Standard electronic code lock is applicable for both card-swiping and fingerprint unlock
• Fin less condenser frees users from condenser filter cleaning
• Controller with delay start function enables off-peak start for 0~30min, significantly reduces the load on electric circuit from simultaneous start-up
Safety design
• Dual cooling system design enables stable -80°C(MDF-U590VX: -75°C) to ensure sample safety, despite one cooling system suffers an unexpected failure
• Standard expansion tank to absorb system pressure in case of excessive pressure caused by extremely high ambient temperature or any other reasons, to maintain normal compressor operation and ensure sample safety
• Core parameters protection with password to avoid losses caused by mis-operation
Sealed chamber design
• Quadruple-pane door gaskets are distributed on different planes to form a vacuum protection area to prevent cold air loss
• Wholly foamed inner door with thickness>30mm to reduce frost growth
Chest design
Compared with upright models, chest models' pull-down performance and temperature uniformity are improved by 26% and 57% respectively. During stock-in/stock-out, middle and lower chamber can remain in the set temperature range and temperature fluctuation only occurs in
the upper (time for recovery to -75°C<1 Omin)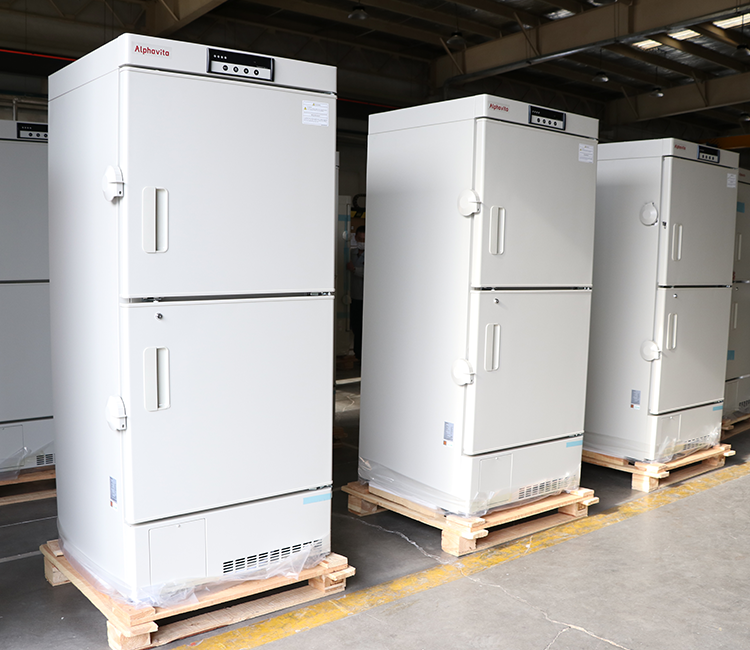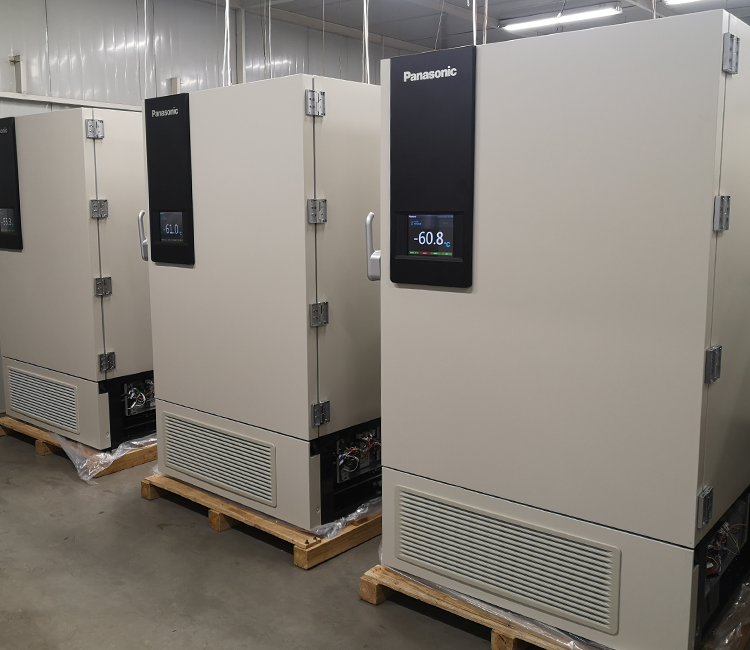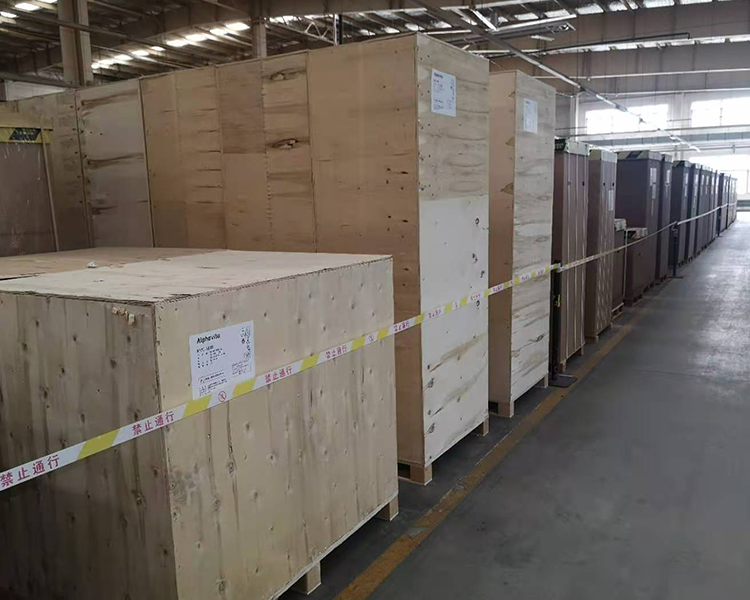 We are the only door to overseas market for Dalian Refrigeration Co., Ltd. We have our own design team, installation team and after-sales team. We are professional engineering & trading company. We have set up branch office in Philippines, Malaysia, Thailand, Burma, Cambodia, Singapore, Bangladesh, Pakistan, Russian, Uzbekistan, Brazil, Argentina etc.
...more